english  |  german
An almost – fifty – minute – film  
 without a script, but instead a lot more than a hundered children.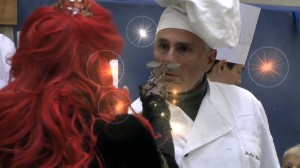 Rolf Losansky, the director of the film, is known not only for many good children´s films, but also for the selection of very good child actors (The School Ghost / Moritz in the Advertising Column) belong to his trademarks.
And he has a new idea for a cast: I have always rejected thousands in order to find two or three main players. Here, I will use all the children who want to take part, by simply saying "YES", you´re taking part! No Rejections…"
Over a hundred children came to Erkner and ALL took part, whether as prince, maid, cook or soldier to stand before the camera for the first time, to clap the clapperboard, to help by editing…
By the director´s side stands Ralf Schlösser (already the chosen actor back in the day from  … "dammit I´m  getting old!"), who got the idea rolling (into production), actors like Gojko Mitic (Head Cook), Karin Düwel (Evil Fairy), Kerstin Reimann and Bruno F. Apitz – all recruited without pay.
No money but lots of enthusiasm also from the many helpers in front of and behind the camera. A whole city (and more) was in motion.
The film title, by the way, was the problem: None of the many princes wanted to kiss the beautiful Sleeping Beauty (actress Natassja Hahn). "Better to die in the thorns!" was the answer. Still our tale had a "Happy End"! And so this complicated situation was finished.
The people working the camera – some with more and others with less camera knowledge, therefore who enjoyed just doing it even more – worked with the different types of camera and recording formats, creating beautiful material. The music itself was a present – the Sleeping Beauty song was written extra for this film and composed and sung by Karsten Troyke.
Antje Stein has been infected by the excitement and with lots of enthusiasm took on the mammoth task of post production and distribution.
Butt he most important was ….. the many wonderful children who played in the film.